New Queensland rider Brodie Loy has turned to noted fitness guru Ron Johnson and a diet of fruit, soup and vegetables in a bid to give next season's Brisbane jockey premiership a serious shake.
Loy is not chasing dramatic weight loss such as Johnson helped to achieve with Victorian rider Ben Allen in his successful bid to win his maiden Group 1 on Marabi in the Oakleigh Plate at Caulfield in February.
Loy, who arrived in the Sunshine State from NSW earlier this year to be Annabel Neasham's go-to jockey, simply wants to be able to ride consistently at 55kg in the city and do it without having to plunge the kilograms.
BREAKING NEWS: CHRIS MUNCE CHARGED BY STEWARDS IN CCTV PROBE
That's no easy feat given the well-built Loy stands at 174cm.
But Loy, who nailed his first Queensland Stakes win recently when scoring the Eye Liner Stakes at Ipswich on Neasham-trained sprinter Holyfield, is starting to garner wider support from trainers.
He wants to leave no stone unturned in his mission to win a Brisbane riding premiership, eyeing off next season's title.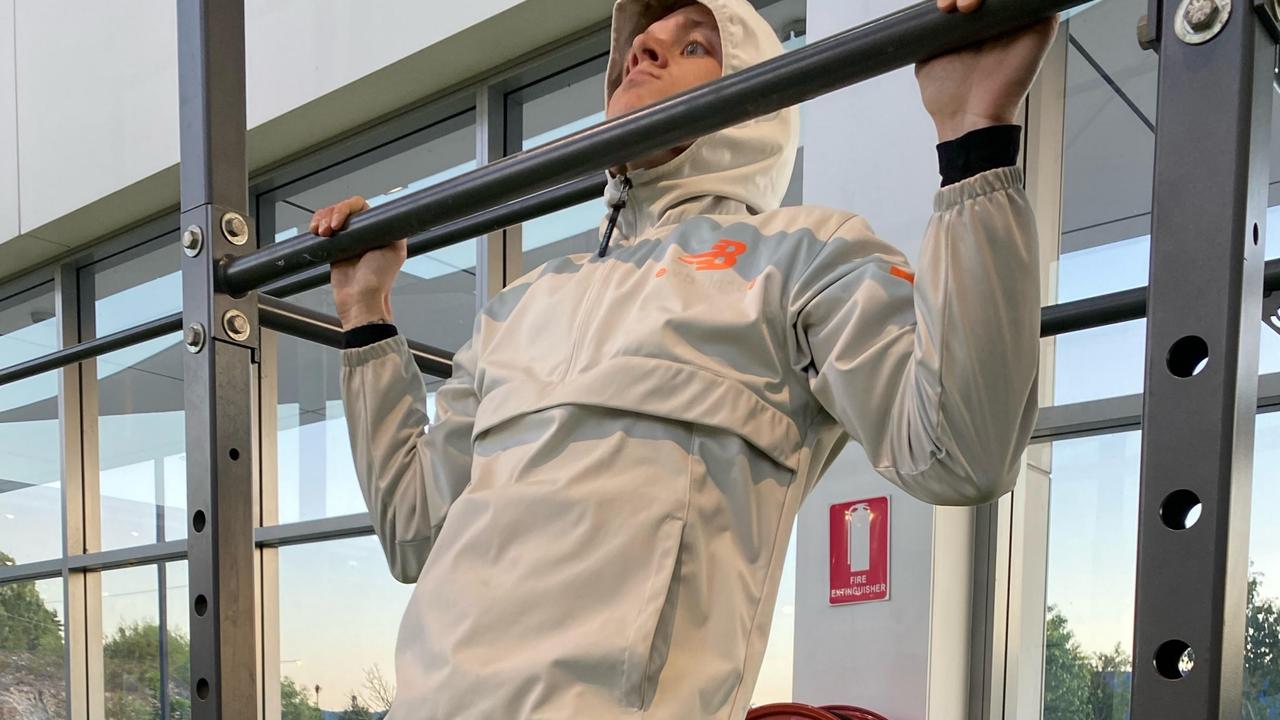 Queensland jockey Brodie Loy training with renowned fitness guru Ron Johnson.
That's why he is working with Johnson, who has helped to iron out many of Australia's top jockeys over the last two decades.
"I'm starting to get a few good opportunities and I want to put myself in a position next season to really ruffle up a few feathers for the premiership," Loy said.
"There is no big ride coming up in a Group 1 at 53 (kg) or anything like that.
"But I am spending 10 days with Ron Johnson, who is currently living with me, to invest in some stuff for the next riding season.
"I've seen how Ron gets jockeys down to ridiculous weights, but in a healthy way.
"I'm not trying to get down to 52 (kg), or anything like that, but it's a complete health detox and mental refresh.
"I want to get established before the new season starts and really be in tip top shape going into the new season."
With Johnson keeping a watchful eye, Loy has a new diet of a fruit salad and a scoop of yoghurt for breakfast and then snacking on fruit until lunch.


Queensland jockey Brodie Loy took a picture of his soup dinner.
Lunch is corn, peas and carrot and then there are more fruit snacks throughout the afternoon followed by a vegetable and ham soup for dinner.
There's also a fitness regime, implemented by Johnson, which includes new gym and swimming exercises designed to push Loy's body.
Johnson said: "Brodie has been exceptionally dedicated and committed and if he can stay on that path, he will be exceptional."
Loy feels it is already paying dividends but the major rewards will come down the track.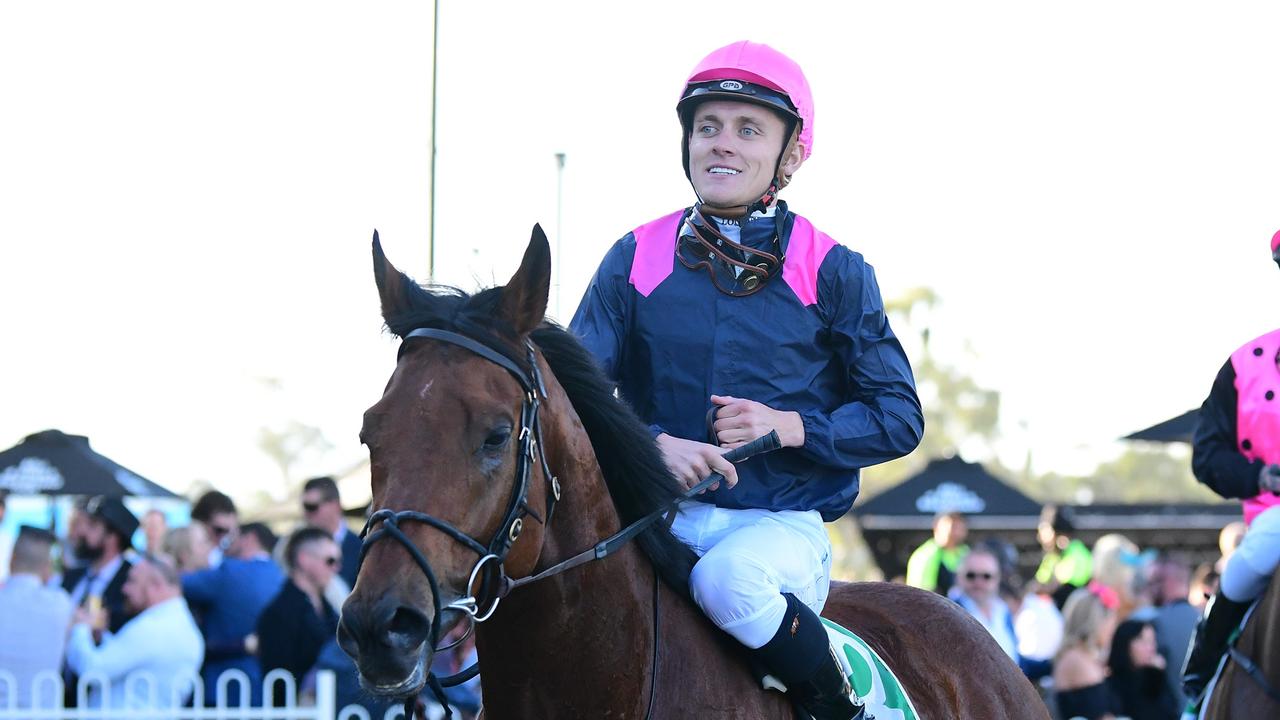 Brodie Loy when winning the Eye Liner Stakes on Holyfield. Picture: Grant Peters – Trackside Photography.
"I'm 174 cm and pretty well built, I want to try and do what I am doing with Ron week in and week out for a whole season and be consistent, instead of trying to ride 55(kg) and missing the target," Loy said.
"I've got good mental strength, I can lose two or three kilograms for a race meeting if I need to but I don't want to be doing that as it takes a toll.
"Last Saturday I rode a horse for Kacy Fogden at 55 (kg) and it's the only time ever that I have only had to lose a few ticks over a kilo to ride at 55 (kg).
"I didn't ride a winner on the day, but I felt mentally like I had won on that day."
Darby McCarthy, regarded as the nation's greatest Indigenous jockey, is about to be immortalised in film.
A new loved-up photo of jockeys Jamie Kah and Ben Melham overseas has surfaced on social media.
Most apprentice jockeys dream of riding a winner on one of their first days at the races – Brisbane-based apprentice Emily Lang rode five.
While a host of big-name jockeys are holidaying overseas, Nash Rawiller will make the trip north to the Sunshine Coast on Saturday to ride at the Caloundra Cup meeting as he looks to end the winter carnival on a high note.
Melbourne Cup-winning jockey Michelle Payne will make a rare foray to Adelaide this weekend as she continues to ramp up her return to the saddle.
A burnout wary Tyler Schiller will keep his focus primarily on riding metropolitan winners as he looks to add his name to the esteemed list of Sydney apprentice premiership victors next month.
The scene is set for a big day of racing at Ipswich on Saturday while there is Stakes racing in Sydney and Melbourne.
Motivated jockey Ethan Brown is adamant Sir Davy will measure up in a competitive David Bourke (1630m) at Flemington on Saturday.
Brodie Loy was an important member of the Zaaki supporting cast earlier in the Queensland winter carnival but now gets his own chance to shine when he rides a key Eye Liner Stakes fancy at Ipswich on Saturday.
Copyright © Racing Internet Services Pty Ltd. 2022
Stay in control. Leave before you lose it. Gamble responsibly. Think! About your choices. Call Gambling Help on 1800 858 858 or visit www.gamblinghelp.nsw.gov.au or www.gamblinghelponline.org.au