#225BATONROUGE


Pasta salad is such a throwback from the late '80s and early '90s. I made it all the time back in the day. It's great because you can add any type of vegetable to fit many different flavor profiles. This Greek-inspired version is easy to throw together, and it's full of veggies and just the right amount of carbs to satisfy without feeling heavy. I added in garbanzo beans for some extra protein, and using a whole-wheat pasta offers a little extra fiber. You could also incorporate some grilled chicken to make this dish a complete all-in-one meal. This pasta salad can be made a day in advance and stored in an airtight container for up to 3 days.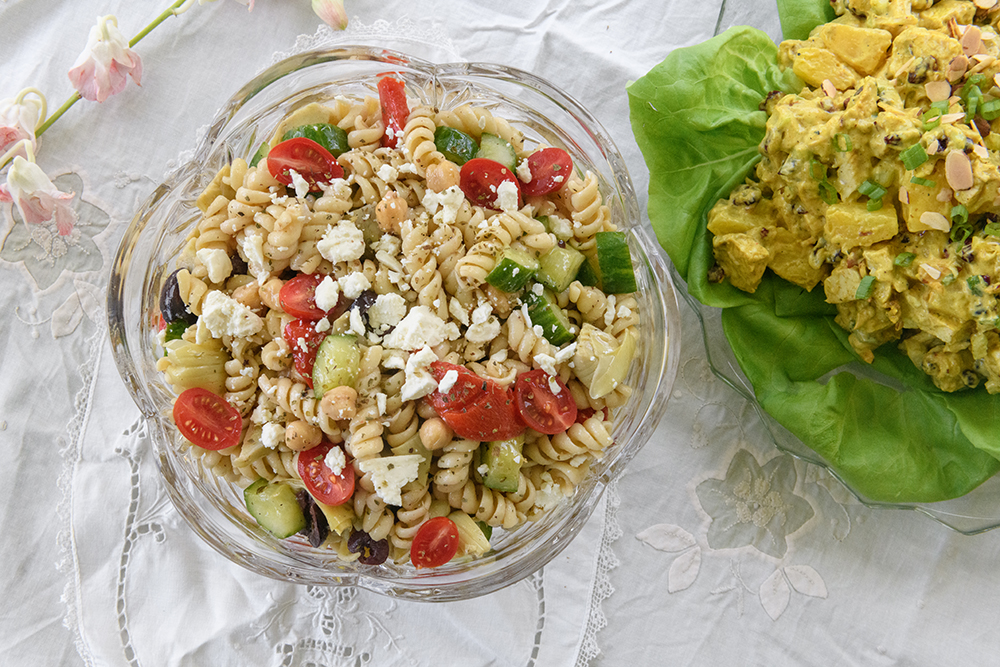 Servings: 6-8

2 cloves minced garlic
1 teaspoon kosher salt
½ teaspoon black pepper
1 tablespoon Dijon mustard
¼ teaspoon dried mint
½ teaspoon dried oregano
½ cup red wine vinegar
1 cup extra virgin olive oil
½ vegetable oil
½ cup crumbled feta cheese
1 pound rotini or penne pasta (whole-wheat optional)
1 English cucumber, chopped
1 pint grape tomatoes, cut in half
1 (8-ounce) jar marinated artichoke heart quarters
1 (4- to 6-ounce) jar roasted red bell peppers, cut into strips
8 ounces Kalamata olives
8-ounce can garbanzo beans, rinsed and drained
1 cup chopped fresh baby spinach
½ cup crumbled feta cheese
This article was originally published in the May 2022 issue of 225 magazine.